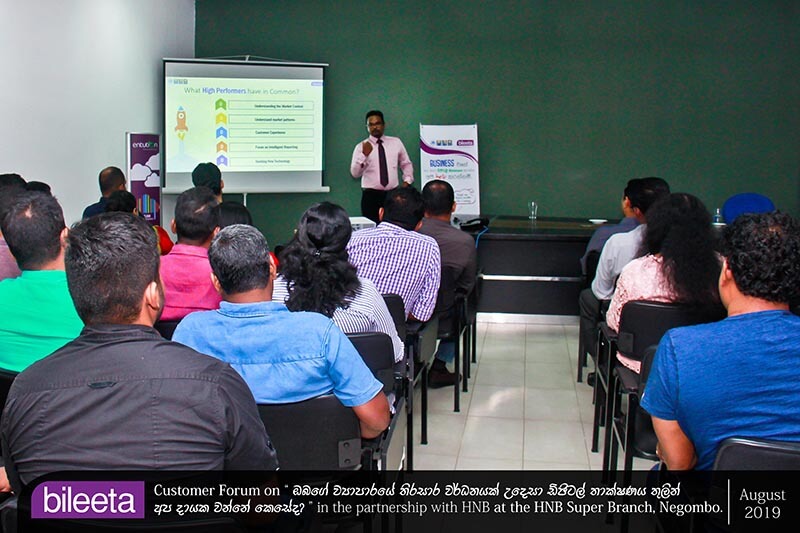 Fueling rapid growth– with an enterprise resource planning system (ERP) for small business and midsize companies by integrating data and intelligent technologies to break new ground was the initiative behind a customer forum conducted by ERP solution specialist Bileeta (Pvt) Ltd for a range of SME's in the Negombo region recently.
Partnered with HNB, a bank that extensively support's the growth of the Small and medium business sector, the forum showcased how SME's could leverage their core business processes through a single ERP platform " Entution ERP ".Mr.Suranga Kauranathne, Relationship Manager-SME of Hatton National Bank PLC spoke on the importance for SME's to embrace technology to promote growth, stating how SME's who were early adopters of technology could increase their annual revenues by leaps and bounds, successfully counteract competition and assume leadership positions in their respective industries.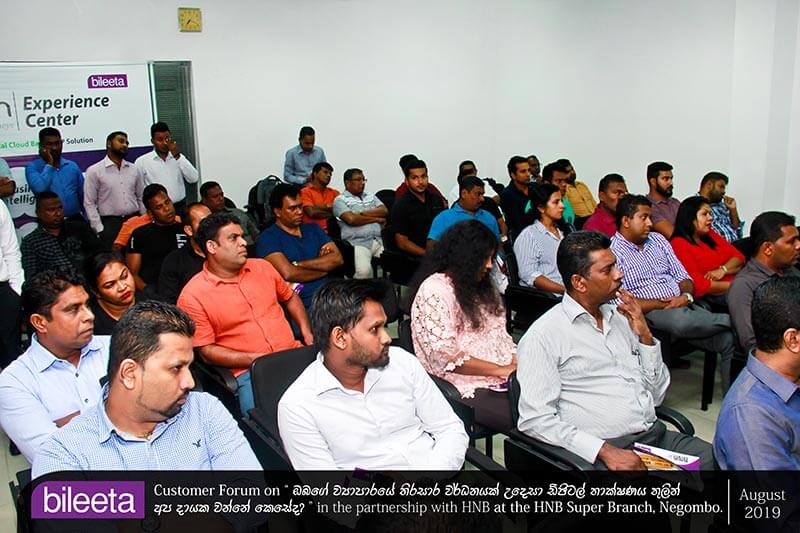 Endorsing these comments, Mr.Hemaka Wijegunasekera, Senior Business Solutions Manager at Bileeta explained that the "Entution ERP" solution was designed to help improve cash flow and visibility while cutting operational costs. It allowed users to control the entire organization with streamlined business processes and integrated business intelligence, all in one affordable, scalable ERP software solution, thereby offering SME's the ability to gain greater insight into their business and make decisions based on real-time information to drive profitable growth.
Provided on a single cloud-based ERP it maximizes business agility with standardized processes, rapid innovation and fast time-to-value. Utilizing intelligent automation to unlock new levels of performance across the organization, the solution requires no particular hardware or software configuration, additional maintenance and support cost and highly paid IT staff. Working on 'pay-as-you-go' subscription model, needs only a web browser and network connection that can be accessed from a desktop, laptop or mobile devices anytime, anywhere, which worked well for SME businesses who lacked the affordability to invest too heavily in software solutions.
Further benefits included in offering the flexibility to increase and add on to the number of sectors being used in the solution whenever required, as against certain ERP solutions that had to be fully purchased irrespective of whether all the areas of the ERP solution could be utilized. As Entution ERP is specifically tailored for each SME business, Hemaka outlined that as an SME diversifies into additional businesses and their engagements grow, the Entution ERP solution can directly assist in improving their productivity, manage resources and additional operations and generally be the backbone to monitor, track, trace and communicate business and activities throughout the entire cycle of growth.
Another important benefit was the solutions flexibility for upgrades that totally eliminates the necessity to buy into new software solutions to support the growth of an SME's additional requirements. These benefits stated by Hemaka is how Bileeta offers their customers "powered journeys" in their businesses and to progress successfully in their respective markets and industries.
With a host of interested queries posed by the audience into how the Entution ERP solution could be integrated into their businesses, the forum ended on a high note of positivity, with many of the SME's being offered a cost effective and futuristic solution to power their businesses into the next millennium.