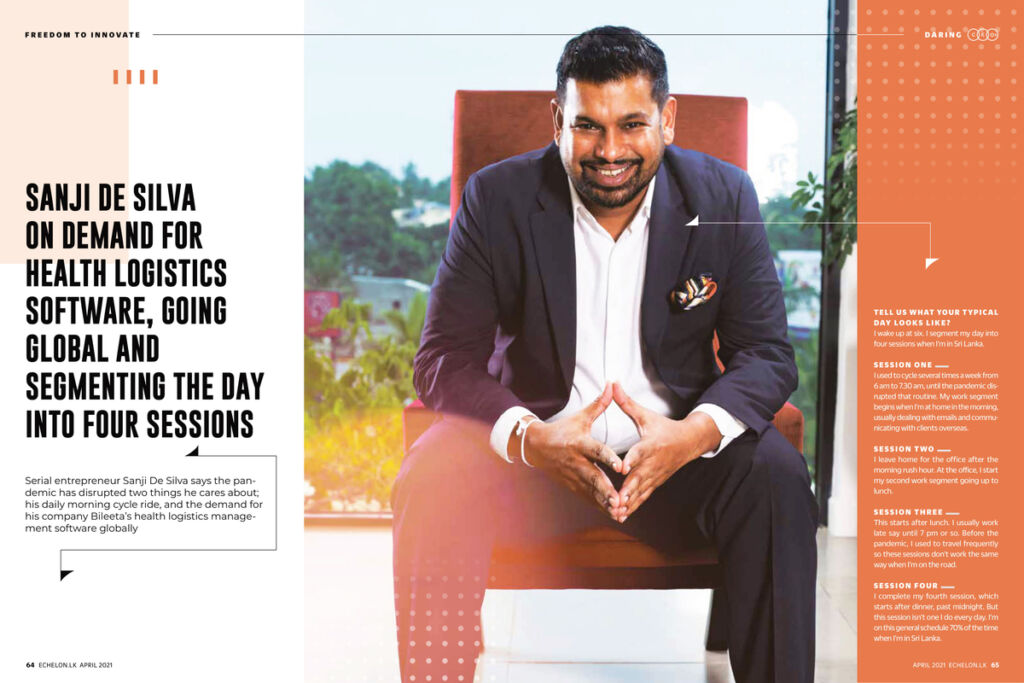 "Entrepreneurship for me is a steering wheel to achieve what I want; to be an innovator and to build things"
|
In The featured
article
by Echelon, Sanji De Silva speaks about the disruption caused by the pandemic to two things he cares about.
His Daily morning cycle ride and the demand for Bileeta's Health logistics management software VLMIS globally
Read the article more on how Sanji De Silva schedules or rather segments his day including how the quality of tech talent in Sri Lanka assists to build successful businesses globally. Bileeta's latest global venture is Entution Vesta
Entution Vesta, Bileeta's VLMIS is a fully fledged solution with ERP capabilities to automate the entire process of vaccine management from Purchasing, Receiving of vaccines to Distribute, Warehouse Management, Inventory Management, and Asset Management to ensure best practices of the vaccines from receipt to Patient Administration.
Being a serial Entrepreneur He also voices his opinions about entrepreneurship, the Challenges of being a leader, and the lessons he learned to make sure Bileeta aligns itself with its vision and performance management.
Furthermore, he discusses the Future of the ERP industry upon how it will be the Decision-making guide for all businesses concluding with how he approaches work-life balance.