CRM solutions
Supply Chain Agro Logisitics Ecosystem (SCALE)
Supply Chain Agro Logistics Ecosystems
Entution SCALE can ease agricultural supply chain management by automating entire operational processes seamlessly, connecting Farmers, Field officers, distribution, and decision support systems.
The system is built on the Entution platform leveraging the innovative architecture and state-of-the-art technology. Embedded with features such as procurement management, Inventory & Warehouse Management, Asset Management, Fleet management, workflow approval & task management, and BI decision support system for authorities to take necessary decisions in advance and secure sustainable and efficient supply chain.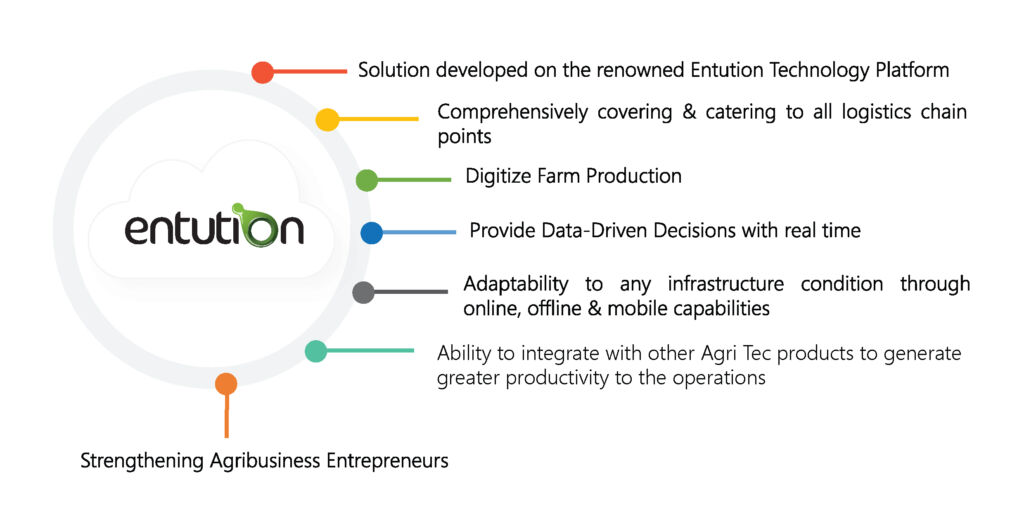 Strengthening
Agricultural Supply Chain
Entution SCALE is a fully-fledged digitized agricultural logistic management information system built on a unique architecture using state-of-the-art technologies. The system covers all aspects of the agricultural value chain management, including crop management, field visits and scheduling crop cycles, logistics management, and decision support system
Farmer Registration
Demand and supply forecasting
Distribution & Transportation Management System
Fleet Management
System data interoperable – layer
Crop Details and capacity Monitoring
Supply planning
Warehouse Management
Asset Management System
Remote Temperature Monitoring & IoT integration
Crop Cycle Monitoring
Post-Harvest Handling
Stocks Levels and Capacity monitoring
Workflow Management
User role-based access control
Field Officer Enablement
Procurement Management System
Inventory Management System
Operational Strategic and Analytics Dashboards With BI
Support Agri tec product Integration
Farming Program Management
Pick up and Delivery planning
Batch, Lot Expiry Management
Generate and Export Reports
Data warehousing and upload
Scheduling field Visits and Route Planning
Quality Check and grading
Approvals and task management
System Notification and SMS/ email alerts
Language localization
| | | | | |
| --- | --- | --- | --- | --- |
| Crop details and capacity monitoring | Supply planning | Warehouse Management | Fleet Management | System data interoperable – layer |
| Crop Cycle Monitoring | Post-Harvest Handling | Stocks Levels and Capacity monitoring | Asset Management System | Remote Temperature monitoring & IOT integration |
| Field Officer Enablement | Procurement Management System | Inventory Management System | Workflow Management | User roll based access control |
Strengthening
Supply Chain Ecosystem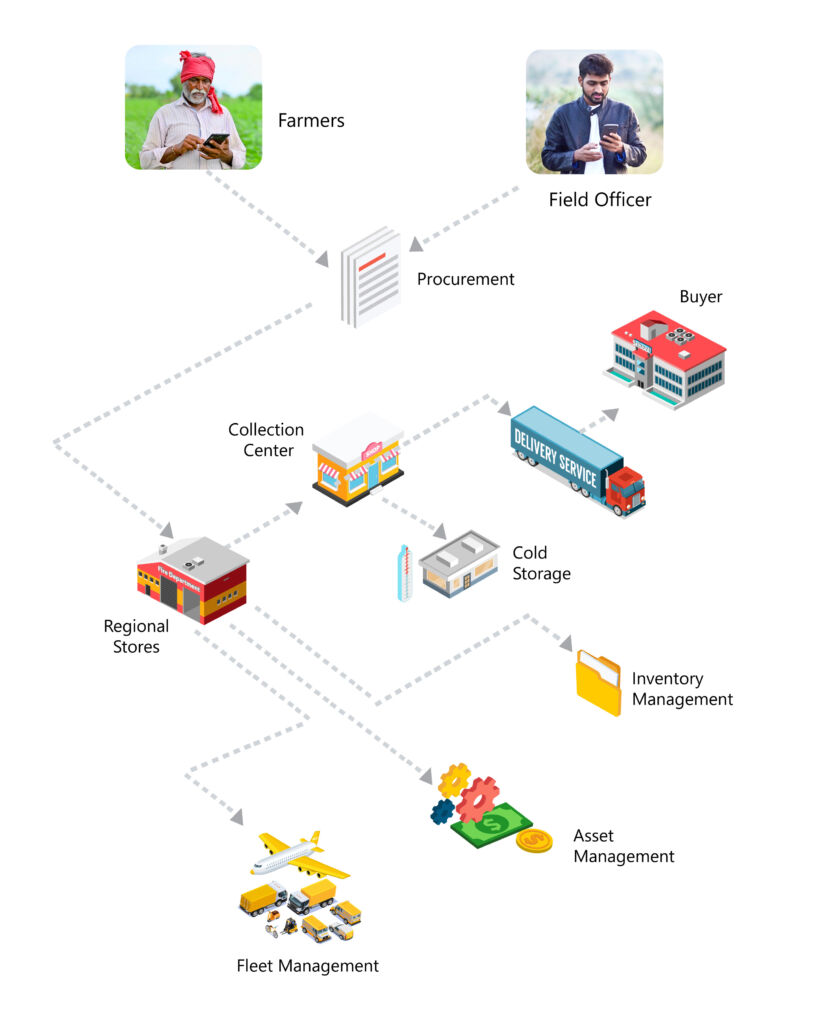 Entution Core Applications
Entution SCALE is a fully-fledged solution that caters to all the relevant supply chain points covering, Central, Regional and Remote Supply Chain points. The cloud-based online application is deployed at
the sites with proper infrastructure and internet connectivity. The solution stack also includes offline desktop Apps to cater areas with poor infrastructure and internet connectivity to ensure uninterrupted operations. The state of art Mobile Application is designed purely for farming operations, ensuring mobility, accessibility and availability.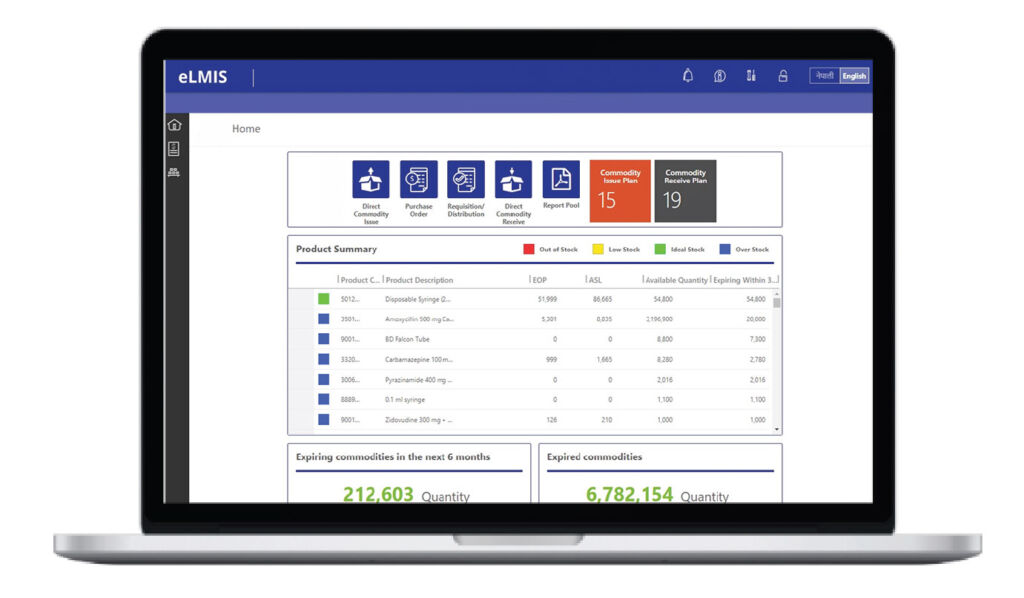 Web-Based Online Application
Cloud-Based Solution with extensive functionalities
Real-time data synchronizations and validations.
Best suited for sites/locations with proper infrastructure and net connectivity.
Mainly supports central and regional level supply chain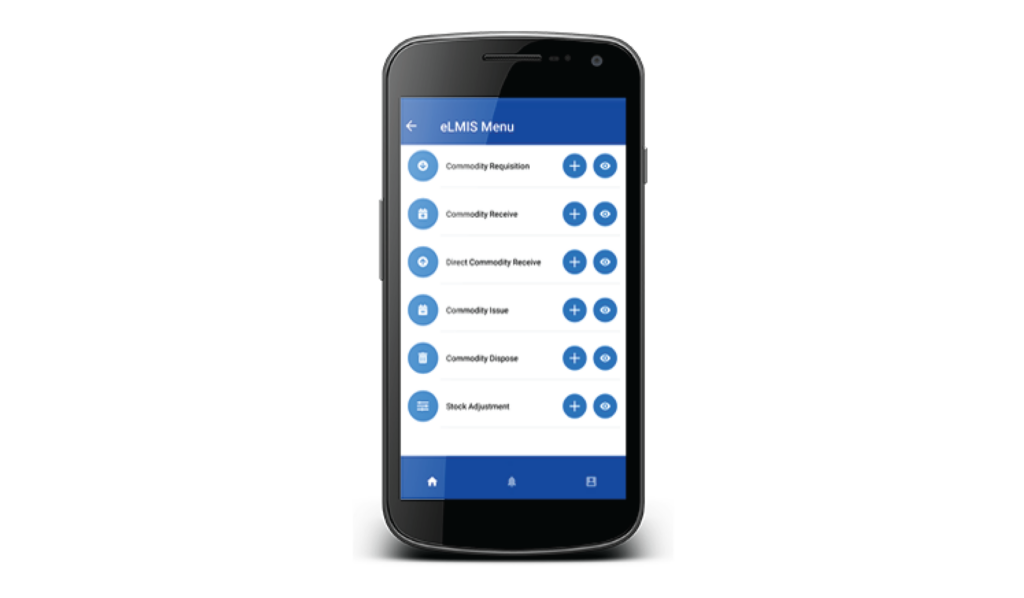 Mobile-Based Online Application
Mobile application is a subset of offline applications.
This can be used at the Health Centre/ Health Posts level.
The application can work with interrupted internet connectivity and synchronize data based on internet availability.
Interoperability
Seed To Plate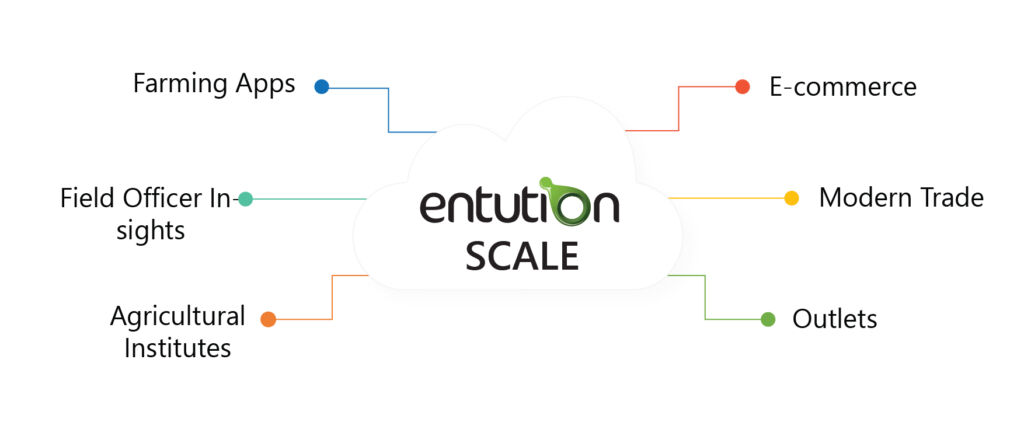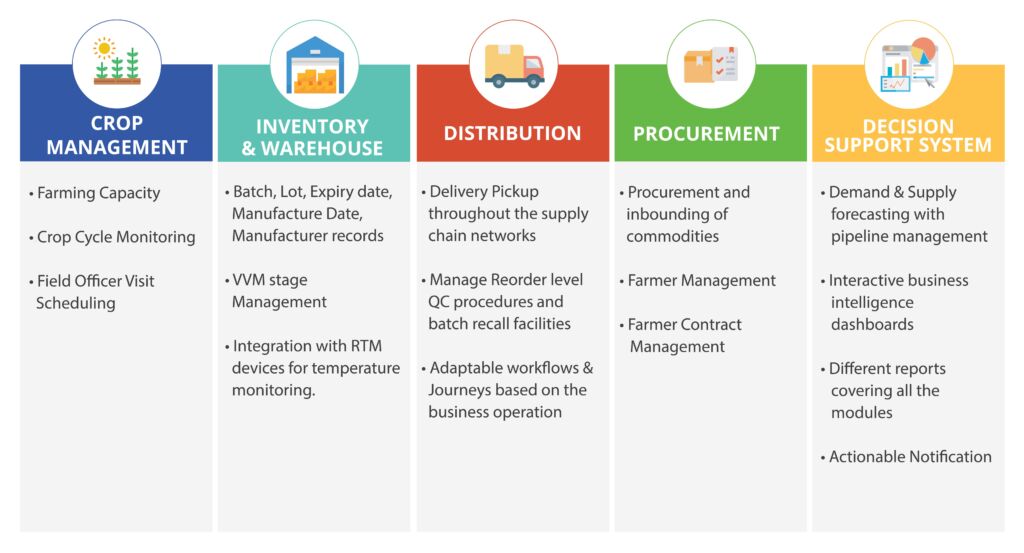 Farmer Empowerment
Facilitating to manage national level farming programs to meet food demand and supply on agricultural products.
Facilitates farmers to register their farming crop detail and capacities
Provides analytics on food demand & support to right product to harvest in the right quantities
Provide connection with field officer and support to the best product to harvest.
Provides analytics on post-harvesting information and pricing pattern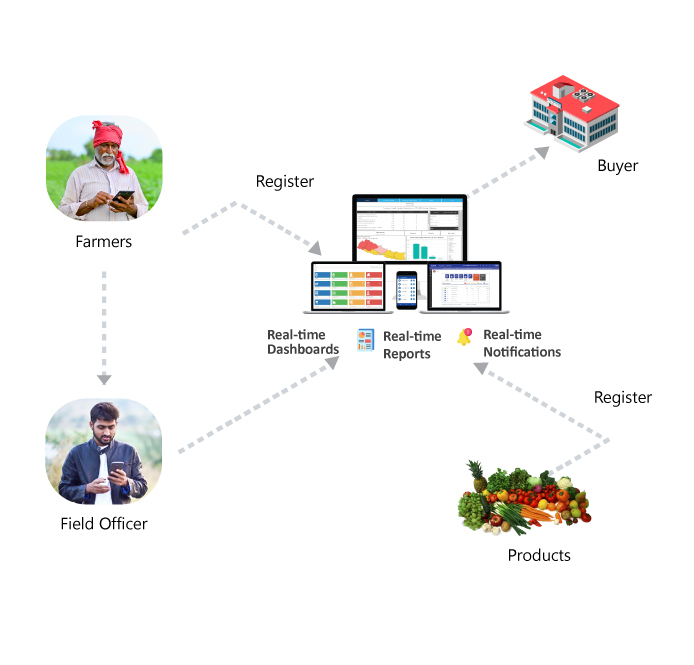 Field Officer Enablement
Scheduling field officer visits and update crop status
Update field officer visits and update farming cycle
Provides historical farming records and demand pattern
Provides route planning which includes event calendar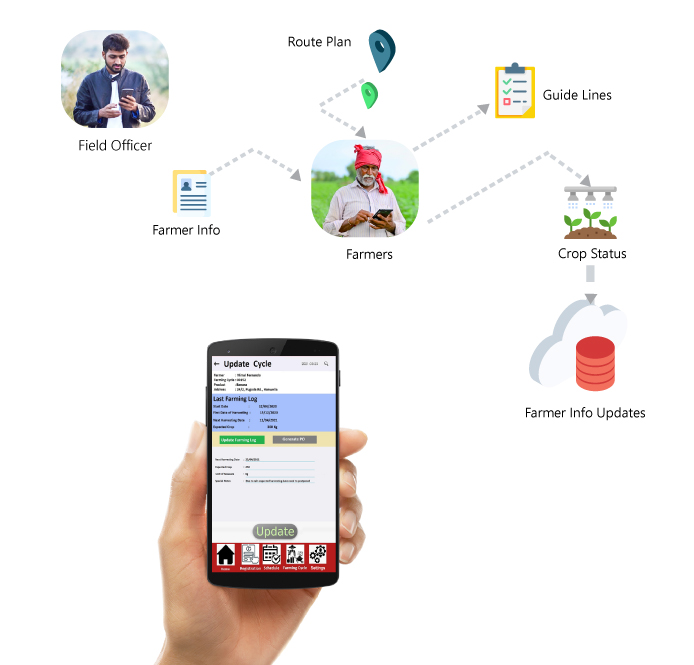 Decision Support System
Entution SCALE comprehensively delivers decision-driven analytical information by comparing the farmer's farming cycle and the buyer's periodical demand, which synchronizes demand and supply of the harvest without shortage or waste of production.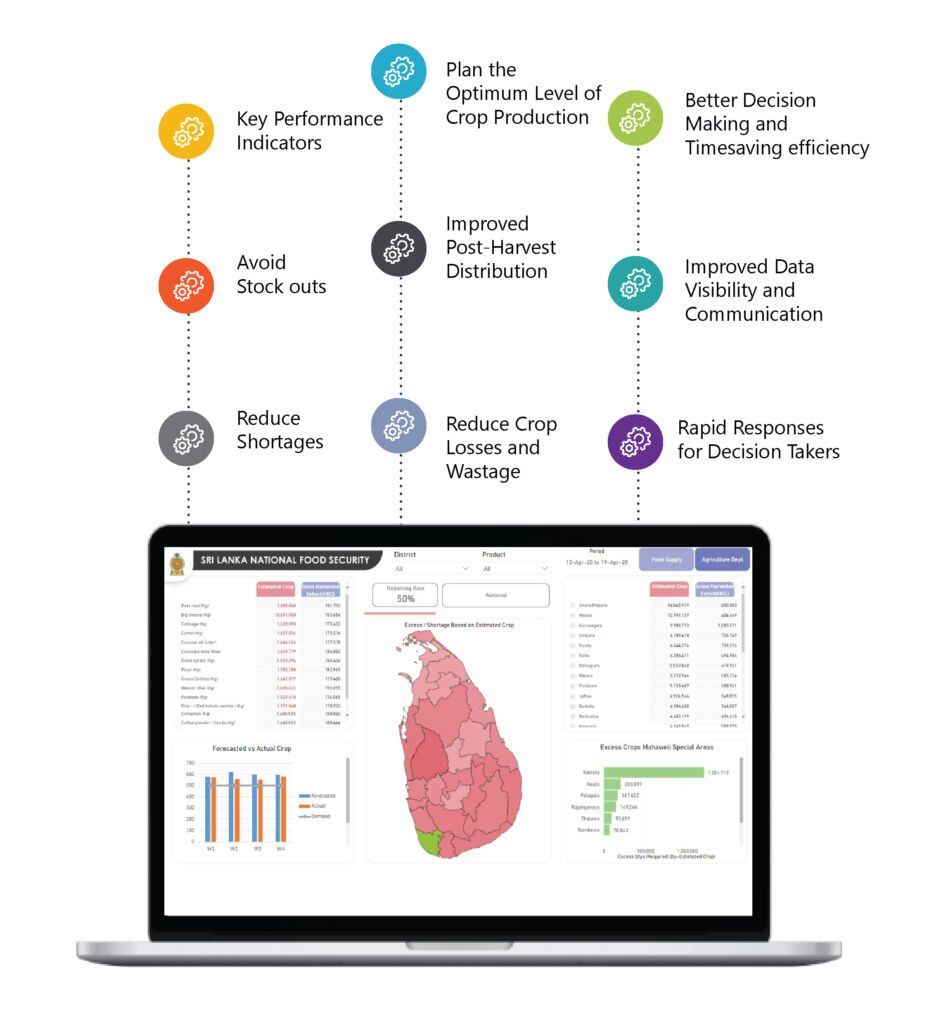 Logistics Management
Entution SCALE fully supports the six logistics rights that can streamline crop production distribution by automating the entire value chain management process, from analyzing the optimum quantities required for the targeted market.
The system supports procuring and distributing crop production across many supply chain points with remote temperature monitoring devices.
The solution further strengthens the supply chain by providing warehouse management, inventory management, asset management, and fleet management to ensure the best utilization of crop production.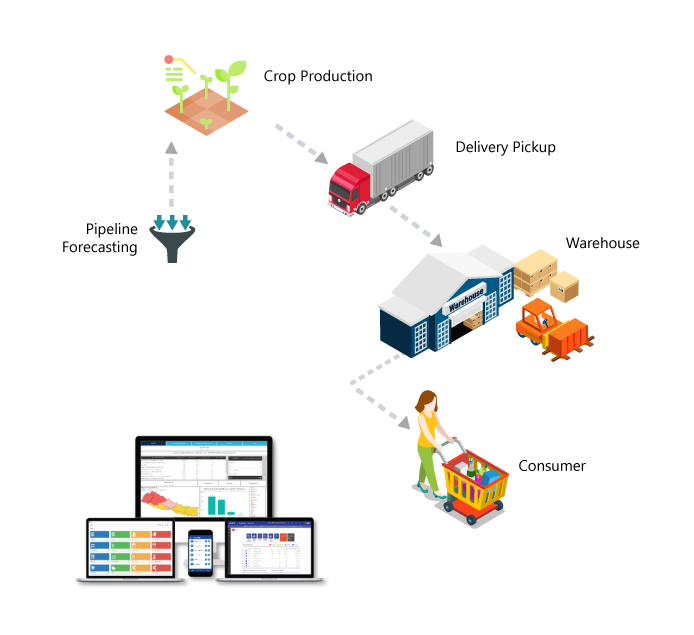 Register for a Product Demo of SCALE Entution Below!