Slide One

Slide Two

Entution Vesta eLMIS
The "Entution Vesta" is an electronic logistics management information system (eLMIS) equipped with a powerful data analytical tool and a fully-fledged supply chain management (SCM) functionalities. It streamlines supply planning, purchasing and distribution of health commodities across all levels of supply chain entities from central warehouses, regional warehouses and district warehouses to service delivery points (SDPs) or health facilities.
Entution Vesta (Elmis) is cloud based solution which can be accessed online for the location having proper internet facilities. The solution functionalities are also available on desktop offline application, and mobile application to overcome infrastructure challenges in remote sites. Therefore, all the health facilities have the ability to work online and offline to eliminate communication issues thus improving the efficiency of the entire supply chain process.
Powerful data analytics tool provides the decision driven information with business intelligence reporting, KPIs and notifications to support confident decision making. Also, it provides real-time visibility to the supply chain and visualize the needs and helps management to take proactive decisions.
Our solutions are developed for easy adoptability, and for non-tech-savvy end users. We also offer tools such as UI customizers, report designers and advanced workflow configurators to ensure long-term sustainability of the solution by local parties. The state of art integration layer ensures the interoperability with the existing 3rd party solutions such as ERP systems, DHIS2, patient management systems, etc. All this is made possible by a team with decades of experience in ERP and Health Care domain with numerous installations across the Globe.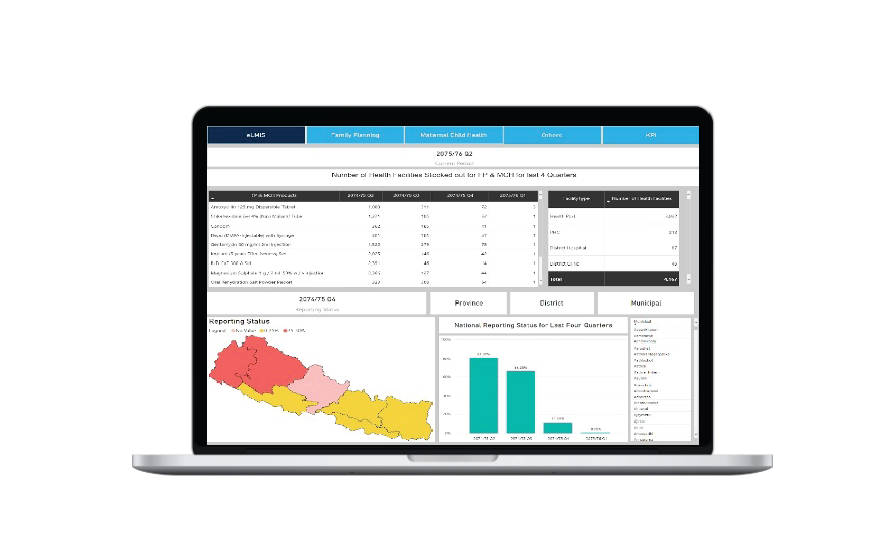 WEB BASED ONLINE APPLICATION
Entution Vesta web based online application provides advanced data analytic tools along with all required functionalities to conduct real time transactions on procurement, logistics management and warehouse management. The data analytics tool provides forecasting, capacity planning and real-time notifications such as near stockouts, near expiry, temperature alarms, shipment notifications, reminders, etc to take proactive decisions in the supply chain.
As a cloud-based solution, the application can be hosted with a cloud provider or on a local server environment and can be accessed via internet / VPN.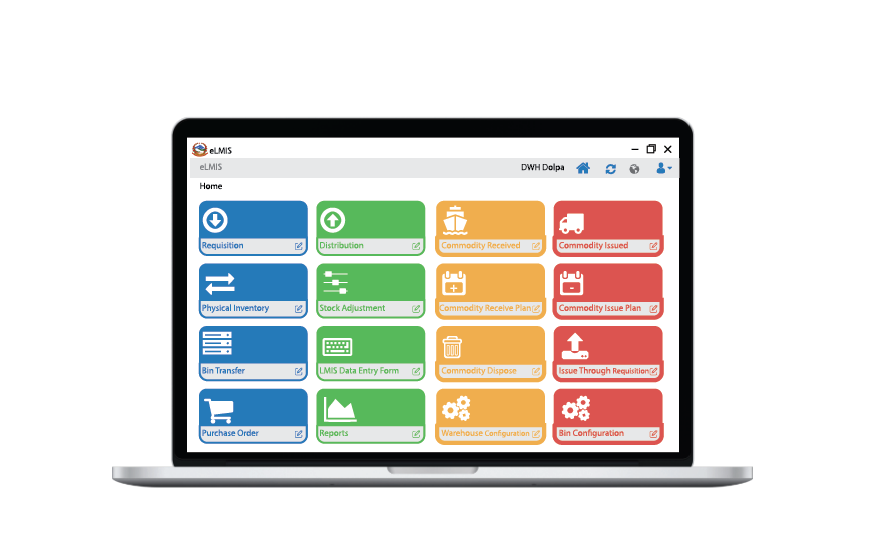 DESKTOP BASED OFFLINE/ONLINE
This application has similar functionality to the web-based application and it has capacity to operate online or offline based on the internet availability, thus this application is more suitable for the remote locations which has interrupted internet and electricity.
This application is fully capable of working without internet, where the data will be stored locally and synchronized when internet is available. This application also provides the essential reports for warehouse operations in offline mode.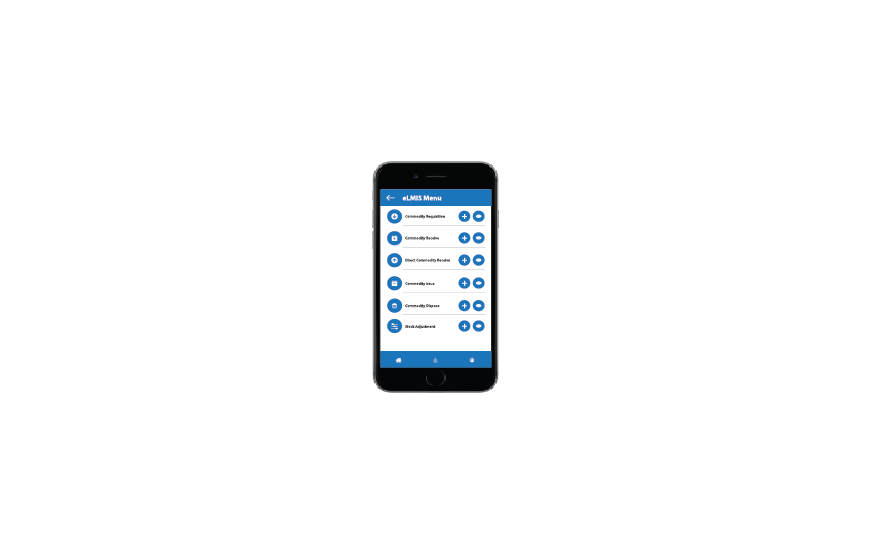 MOBILE APPLICATION
In addition to the web based & desktop-based applications, Entution Vesta has a mobile application, which can be used to conduct specific transactions at Health Centre/ Health Posts level.

This application can work online or offline based on the internet availability. The captured data will be stored in the mobile device when the application is offline, and data will be synced as soon as the internet connectivity is available.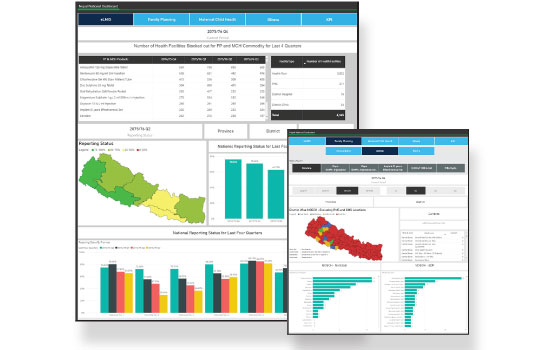 Entution Vesta together with PowerBI provides advanced Business Intelligence (BI) for real-time data analytics and greater visibility through Dashboards,GIS Maps and KPIs.
ELMIS performance dashboard mainly visualizes the Stockouts, Reporting status and Main transaction trends of the overall supply chain
Programme wise Dashboards mainly focus on the Consumption, Month of Stock on Hand (MOSOH) and Expiry of the Family Planning and Maternal Child Health.
KPIs mainly focuses on Order Fill Rate, Wastage Rate, Lead Time, Local vs Foreign Procurement, Funding Source wise Procurement, Stock out rate, etc
Inventory &  Warehousing and Distribution
Requisition, Commodity Issue and Commodity Receive process
Requisition Forwarding & Requisition Desk
Warehouse & Inventory Management
Batch Management Using FEFO / FIFO & LIFO
EPI Vaccine & Cold Chain Management (VVM Stage management)
QC Procedures
Batch Recall / Hold
Delivery Planning & Distribution
Delivery Tracking
Dispense
GS1 Barcoding
Stock Take and Stock adjustments process
Commodity Dispose process
UOM Conversion process
Bin Transfer process
LMIS Data Entry
Admin Functions
Master Data management
Legacy Data Migration & Warehousing
Offline Data Backup and Upload
Journey Configuration
Workflow Configuration
UI Customizer
User Role Based Access Controls
Message Manager
Assets Management
Equipment Management & Registration
Depreciation & Revaluation
Remote Temperature Monitoring
Asset Maintenance & Maintenance Schedules
Asset Relocation
Actionable Data
Near Stock out Notifications
Near Expiry Notification
Shipment Notifications
Reminder Facility
Approval Notifications
Reject Notifications
Temperature Alarm Notifications
Procurement
Pipeline Forecast
Tendering & Procurement Process
Vendor Contract Management
Blanket Order Management
Pricing
Entution Vesta (eLMIS) is a Commercially Off The Shelf (COTS) solution which can be further customized and localized to meet customer requirements closely. The pricing of Entution is based on the following factors:
Perpetual User License Fee
This is a one time fee where the customer can procure user licenses that are valid for lifetime. There are multiple user categories and the following named user license pricing available to choose from:
| Online User License | Offline User License | Mobile User License |
| --- | --- | --- |
| USD 975.00 | USD 975.00 | USD 325.00 |
Implementation Fee
The cost of implementation will be based on the level of effort required to conduct system studies, localization & customization, user training and acceptance procedure, and roll out. Therefore, implementation fee will be determined by the exact scope of the project.
Support and Maintenance Fee
The client can sign up for a maintenance and support contract to obtain L1 to L3 support services, plus receive the software updates to keep the solution up to date with latest technologies and features. This cost will be custom calculated to meet the exact requirements of the clients
Connect with us on WhatsApp [ht-ctc-chat]
Register for a Product Demo of Entution Vesta eLMIS Below!