Entution Vesta VIMS is a Vaccine Information Management System that digitizes the entire life cycle of immunization through vaccination in the public health sphere. The platform addresses the silos that exist in disparate institutions in both state and privately run healthcare systems and brings together all key information required for critical decision making. This is essential for smooth operation of a mass vaccination drive covering the entire population.
Core functionalities such as citizen registration, appointment scheduling, vaccine administration, vaccine logistics management and actionable intelligent reporting enabling vaccination drives to be carried out smoothly in a near paperless environment will ensure a vaccinated safe society with high public confidence in health authorities.
Entution Vesta VIMS has been recognized as the only fully compliant Vaccine Information and Logistics Management System by global funding agencies, government health ministries and by large pharmaceutical corporations around the world.
Collaborations with Organisations Helping Mankind

Entution Vesta VIMS Covid 19 Vaccine Distribution and Administration Solution Landscape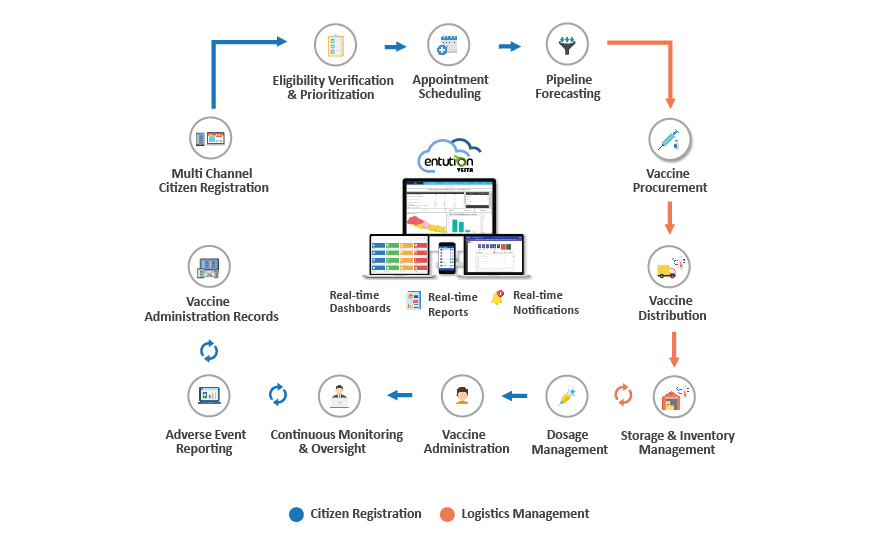 Core Operational Processes Powered by 'Entution Vesta' VIMS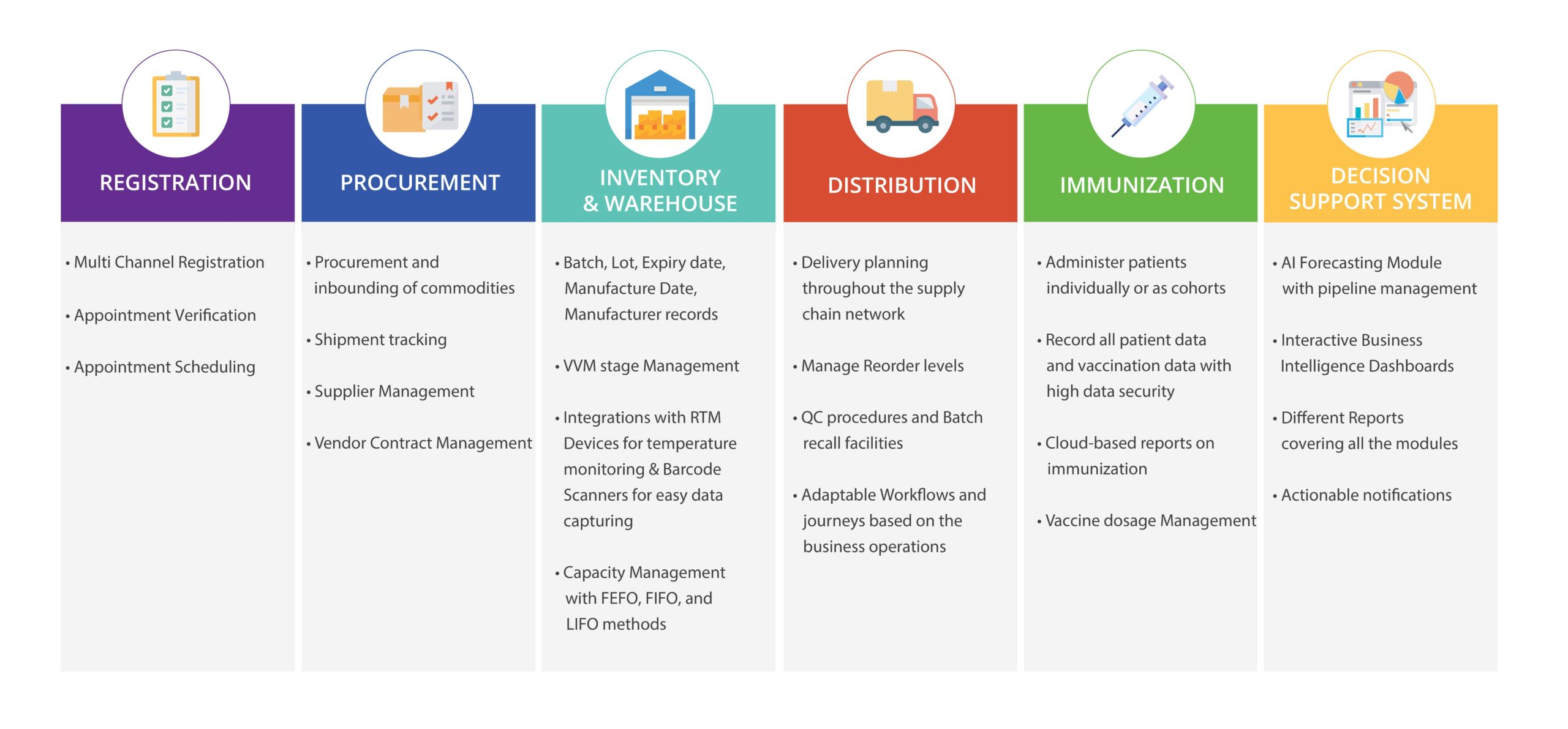 Driving towards Immunized World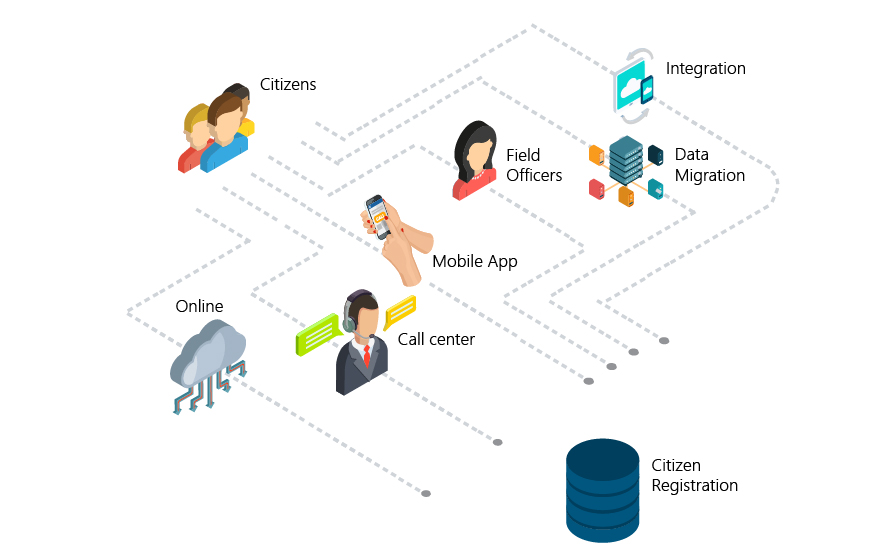 Citizen Registration
Our multi-channel citizen registration system allows users to register for vaccination programs using different mechanisms. Our platform provides Android and IOS mobile apps which are easily downloadable from Play Store and App Store.
Citizens can then register themselves by entering data to the app such as Region, Province, District, City, Citizen Name, Gender, DOB, National Identity Card Information / Guardian information, contact number, Address, Email Address, Emergency Contact Details, Blood Group, Height, Weight, Medical Diagnosis (Set of Questions).
All of these can be customized/configured based on the government requirement.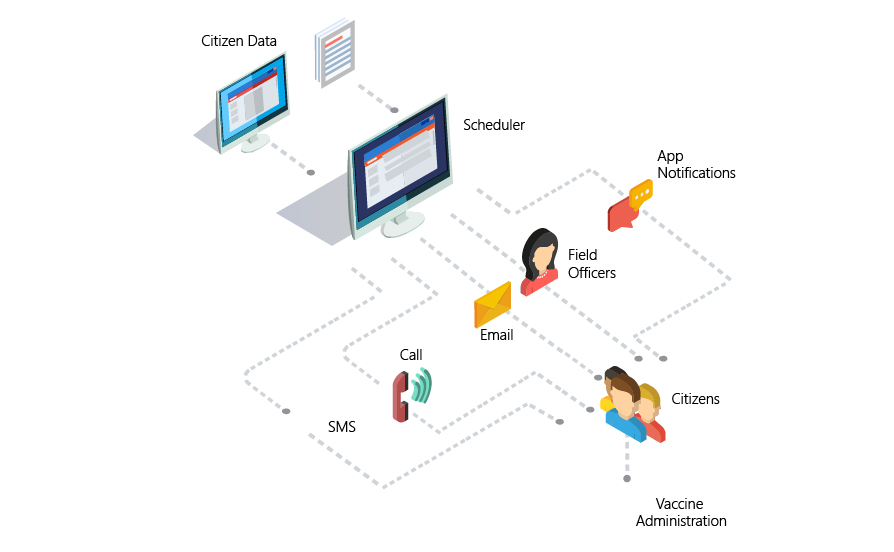 Appointment Scheduling
Once citizens get registered to the system, a unique registration number with QR code will be provided. If they have used the Web app or the Mobile app, they can download the QR code as soon as they finish the registration process.
Vaccination location and date, time and location will be communicated via notification, SMS, Email or voice call. Citizens can confirm the session using the mobile app, web portal or by calling the call center.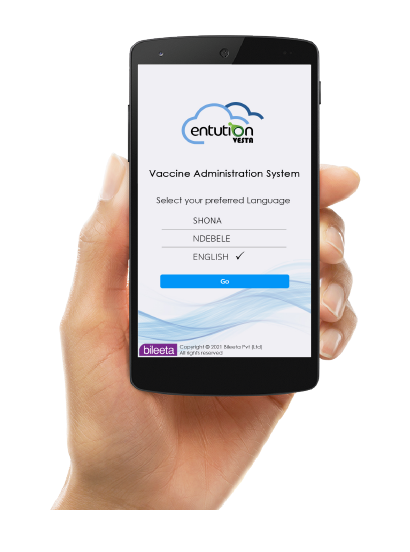 Vaccine Administration
As mentioned under "Appointment Scheduling", once sessions are created, based on the confirmed appointments, stocks can be allocated to the sessions from a warehouse. When citizens arrive to the session, based on the provided session location, date and time, health workers can easily scan the QR code or search from the Registration number and identify the citizen.
After the validation of information and medical diagnostics, patient can be directed to the vaccinator. Vaccinator can open the session from the mobile app/web app and scan QR code/Search Registration number, then provide the vaccine and mark citizen as vaccinated with just one click.
Once citizens are marked as vaccinated, they will receive the digital vaccination certificate. Vaccine certificate will contain information such as Name, Gender, DOB, National Identity Card number / Guardian Identify Card Information, Address, Vaccine Name, Dose, Administrated date, Manufacturer, Batch number, Manufactured date, Next dose due date, Supervisor, Location, etc. Further, this digital certificate contains a QR code which helps validation of the certificate.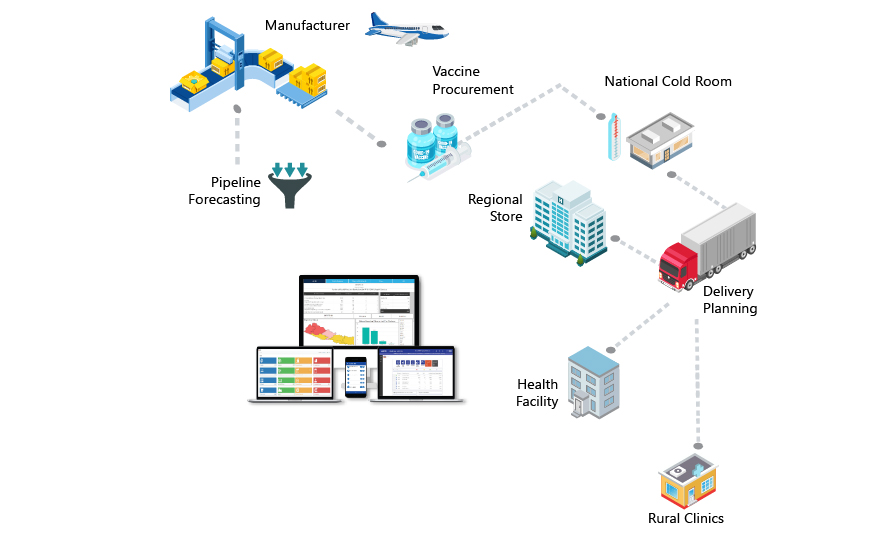 Vaccine Logistics Management and Distribution
Managing vaccine rollouts in different geographies require different workflows and journeys capturing some valuable information such as Batch numbers, Lot Numbers, Expiry dates, Manufacture dates, Manufacturer, VVM stage, Storage temperatures, and Dosage.
Entution Vesta transaction-based system automates all of these challenges and simplifies the workflow and user journeys to comply with the regulatory requirements and deliver immunizations safely and effectively.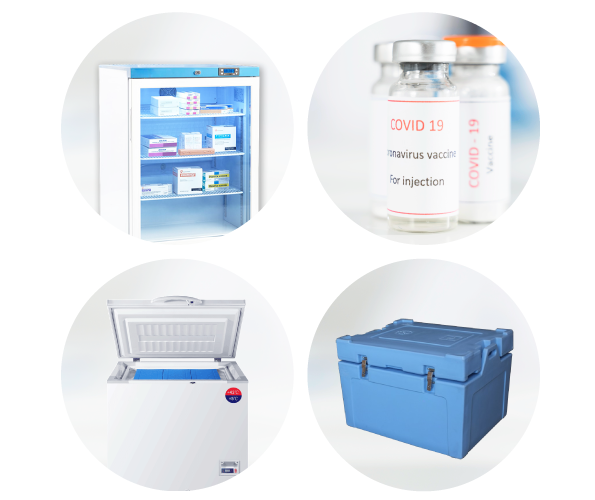 Temperature Monitoring
Different vaccines will require different temperature conditions with Refrigerators, Freezers, and Cold Boxes for transportation & storage. Hence, maintaining the specified temperature of the vaccines is critical throughout the supply chain.
Entution Vesta's interoperable layer allows IoT devices such as Remote Temperature Monitoring (RTM) and Data Loggers to integrate and provide real-time data to identify temperature changes, excursions, Min, max levels and provide appropriate actionable notifications with temperature logs to ensure cold storage preservation
Decision Support System
Entution Vesta tracks every vaccine dose, from receipt to patient administration with real-time inventory management and reporting for Expiry, Near expiry alerts, Near Stock Out Notifications to avoid stock-outs & quickly reallocate stock to high demand areas with a site to site transfer. With procurement functions and receipt, the system provides, Shipment Notifications, Reminder Facilities, Approval Notifications, Reject Notifications, and GS 1 Barcode scanning to confirming the correct batch, lot, manufacturer, and expiration.
AI-powered Pipeline forecasting tool with LightGBM model provides a very high accuracy level in the forecasting of cold chain commodities with Data Warehouse capability to easily learn from the existing data.
Business Intelligent Dashboards with GIS Maps are equipped with data visualization on Consumption, MOSOH, Stock Availability, and Expiry for different vaccine programmes. KPIs in Entution Vesta covers Loss Rate, Vaccine Administration, Lead Time Days, Stocked According to the Plan, OTIF, Order Fill Rate, Wastage Rate, and VIMS performance.
There are two types of reports in Entution vesta as Transaction and Analytics Reports.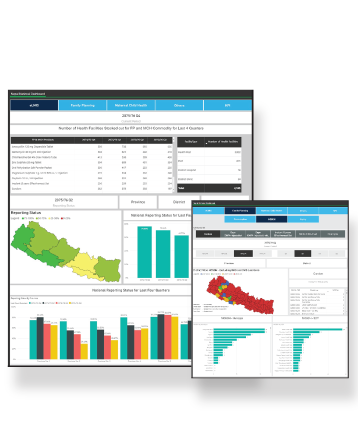 Pipeline Forecasting, Stock-outs, Stock-out Trends, Month of Stocks, Consumption, Consumption Trends, Reporting Status, Reporting Trends, Stock Summary & Detail, Batch Wise Statements, Expiry & Near Expiry Reports, VVM Stage Reports, Product Aging, Pending Commodity Receive, etc.
Transaction Reports
Requisition, Purchase Order, Commodity Issue, Distribution, Dispose, Bin Transfer, Stock Adjustments, Commodity Receive, Physical inventory, Vaccine Administration, Asset Related Reports, Temperature Logs, Stock Cards, etc.

Register for a Product Demo of Entution Vesta Below!